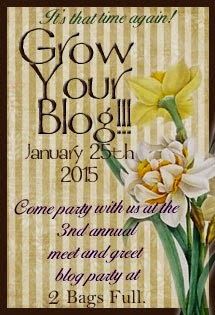 A few months ago, while browsing blogs (you know how it goes ... read the posts, read the comments, find someone of interest, click on their blog, etc., etc.), I became intrigued by a badge that showed up on a number of blogs, advertising a '

Grow Your Blog Party

.' I'm always up for meeting other bloggers, so I clicked and came upon Vicki Boster's blog '2 Bags Full' ... a lovely, cosy place to nose around in. Vicki knits 'nests' , has an Esty shop, writes about her travels, works full time and has 5 grand babies ... her energy seems boundless.
This is the third Grow Your Blog Party that she has engineered to bring blog lovin' folk together. Nearly 400 bloggers are involved.
"My "GROW YOUR BLOG" event is designed to bring more readers and FOLLOWERS to your blogs. The premise is simple-- just visit as many blogs as you wish and sign up to follow those that interest you. In turn, all the other folks will be doing the same thing~
we will all be growing our blogs!"
So here goes ... I am 'Threadpainter', aka Sharron, and I am a Canadian fibre artist with free-motion machine embroidery as my main vice.
Fine art 'thread paintings' are the result of working from my own photographs, painting my own fabrics and stitching with my trusty old Kenmore sewing machine.
I have recently tried my hand at dyeing fabrics (without really knowing what I was doing) and, although rather exciting, I have yet to use these experiments much.
I love entering juried shows !
Sometimes I even win an award ... all icing on the cake !
I have a small 'studio' which and it is nearly always messy (I will spare you the photographs of it). This tiny room also houses my computer, my office, my boxes of old, inherited family photos, my drawing materials as well as books fabrics, threads and paint ... and ... my multi-purpose ironing board (I need and use all available surfaces ;)).
My 'studio' is cramped but cosy and I know where all my treasured bits are.
I am wife of One, mother of Four and grandmother to Eleven ... life is full.
I had a brief career as a cartographer, first for the University of Guelph (pronounced 'gwelf') and then for a local surveying company. At the university I co-illustrated a textbook when I was just 22 yrs. old, of which I have a copy and am very proud ... the textbook is now way out of date.
Drawing with pen & ink is a passion that I have had since my cartography days.
A fairly recent addiction is genealogy. My maiden name is Deacon ... so if you have this name in your family, I'd doubly love to hear from you ;)
Why do I blog ? ... mainly, a
s a great way to record my journey in art.
I like to make connections with other fibre artists who love using their machines to create art ... who would love to share and learn from another kindred spirit (me ;)).
I have volunteered to help Vicki Boster with this wonderful 'Grow Your Blog Party' to bring all kinds of bloggers together.
Welcome to my blog and enjoy the stroll. I hope that you will leave me a comment ... I enjoy my visitors very much and I will respond in kind ;)